The world hangs on a thin thread…
and that is the psyche of the man
 Carl Jung
Text :
 From  The Rebel in The Soul-  ancient Egytian papyrus
Paintings see here
Jung: The world hangs on a thin thread, and that is the psyche of man. Nowadays we are not threatened by elementary catastrophes. There is no such thing [in nature] as an H-bomb; that is all man's doing. WE are the great danger. The psyche is the great danger. What if something goes wrong with the psyche? You see, and so it is demonstrated to us in our days what the power of the psyche is of man, how important it is to know something about it. But we know nothing about it. Nobody would give credit to the idea that the psychical processes of the ordinary man have any importance whatever. One thinks, "Oh, he has just what he has in his head. He is all from his surroundings, he is taught such and such a thing, believes such and such a thing, and particularly if he is well housed and well fed, then he has no ideas at all." And that's the great mistake because he is just that as which he is born, and he is not born as "tabula rasa," but as a reality.
Paintings From  The Rebel in The Soul-  ancient Egytian papyrus
Interviewer: Jung had a vision at the end of his life of a catastrophe. It was a world catastrophe.
Marie-Louise von Franz: I don't want to speak much about it. One of his daughters took notes and after his death gave it to me, and there is a drawing with a line going up and down, and underneath is "the last 50 years of humanity." And some remarks about a final catastrophe being ahead. But I have only those notes.
Paintings From  The Rebel in The Soul-  ancient Egytian papyrus
Interviewer: What is your own feeling about it, the world situation?
von Franz: Well, one's whole feeling revolts aginst this idea but since I have those notes in a drawer, I don't allow myself to be too optimistic. I think, well, we have always had wars and enormous catastrophies, and I have no more personal fear much about that. I mean at my age, if you have anyhow soon to go— so or so egocentrically spoken. But the beauty of all the life— to think that the billions and billions and billions of years of evolution to build up the plants and the animals and the whole beauty of nature— and that man would go out of sheer shadow foolishness and destroy it all. I mean that all life might go from the the planet. And we don't know— on Mars and Venus there is no life; we don't know if there is any life experiment elsewhere in the galaxies. And we go and destroy this. I think it is so abominable. I try to pray that it may not happen— that a miracle happens.
Paintings From  The Rebel in The Soul-  ancient Egytian papyrus
Interviewer: Do you find that young people that you see now are aware of that? That it's in their consciousness?
von Franz: Yes it's partly in their unconscious and partly in their consciousness, and I think in a very dangerous way, namely, in a way of giving up and running away into a fantasy world. You know, when you study science fiction, you see there's always the fantasy of escaping to some other planet and begin anew again, which means give up the battle on this earth, consider it hopeless and give up. I think one shouldn't give up, because if you think of [Jung's book] Answer to Job, if man would wrestle with God, if man would tell God that he shouldn't do it, if we would reflect more. That why reflection comes in. Jung never thought that we might do better than just possibly sneak round the corner with not too big a catastrophe. When I saw him last, he had also a vision while I was with him, but there he said, "I see enormous stretches devastated, enormous stretches of the earth. But, thank God it's not the whole planet." I think that if not more people try to reflect and take back their projections and take the opposites within themselves, there will be a total destruction.
Paintings From  The Rebel in The Soul-  ancient Egytian papyrus
"The supreme madness is to see life as it is and not as it should be, … things are only what we want to believe they are ..." Jacques Brel
Read: Personal myths in light of our modern-day "reality"
This comprehensive collection of writings by the epoch-shaping Swiss psychoanalyst was edited by Joseph Campbell, himself the most famous of Jung's American followers. It comprises Jung's pioneering studies of the structure of the psyche – including the works that introduced such notions as the collective unconscious, the Shadow, Anima and Animus – as well as inquries into the psychology of spirituality and creativity, and Jung's influential "On Synchronicity," a paper whose implications extend from the I Ching to quantum physics. Campbell's introduction completes this compact volume, placing Jung's astonishingly wide-ranging oeuvre within the context of his life and times. Read here

Jung's interest for alchemy starts from two directions. One is the necessity to find a historic parallel to his own discoveries of the unconscious psychic life. The second refers to the series of dreams which have evoked the new research course, on which Jung talks at length in his autobiography: Memories, Dreams and Reflections.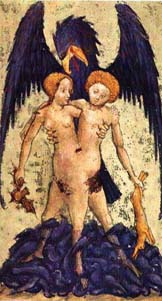 "Before I discovered alchemy – writes Jung – I had a series of dreams which dealt with the same theme. Beside my house stood another, that is to say, another wing of annex, which was strange to me. Each tie I would wonder in my dream why I did not know this house, although it had apparently always been there". This strange part of the house revealed its meaning finally: "The unknown wing of the house was a part of my personality, an aspect of myself…"
This part was unconscious and would reveal itself as an interest for the in-depth study of medieval alchemy.
This study was announced definitively in the dream from the year 1926 when Jung dreams himself being captive in the 17th century. "Not until much later did I realize that it [the dream] referred to alchemy, for that science reached its height in the seventeenth century".
Alchemy is a symbolic representation of the "individuation process In the serious alchemy, believes Jung, processes arising from individual psyche are described encoded. Peculiar terms that alchemy operates with, such as prima materia, unus mundus, Mercurius, filium philosophorum, lapis and many more are decrypted by Jung through an arduous work of over 10 years.
His develops and parallels are described at length in his book Psychology and Alchemy , an essential piece of work for the ones studying interestedly analytical psychology, the individuation process and the exploration of the unconscious through dream interpretation.
"We could resume Jung's vast experience with alchemy in the next two quotations:
"Grounded in the natural philosophy of the Middle Ages, alchemy formed the bridge on the one hand into the past, to Gnosticism, and on the other into the future, to the modern psychology of the unconscious".
 "Only after I had familiarized myself with alchemy did I realize that the unconscious is a process, and that the psyche is transformed or developed by the relationship of the ego to the contents of the unconscious".
More about alchemy, archetypes and dream interpretation may be found in Psychology and Alchemy, the book Jung has dedicated to the analysis of the relationship between alchemical symbolism and the individuation process. Read here
Jung, Aquinas, and the Aurora Consurgens: Establishing a Relationship with God
The reunion of a man with God is the subject of a medieval text which aggregates excerpts from the Bible and Arabic alchemical texts that had recently become available in Europe. The Aurora Consurgens personifies God as Wisdom, a spiritual being who not only formed the world in the beginning but is also a guide to men to return to God subsequent to their separation at the Fall.
The union of feminine Wisdom and a man is aligned with pairs of opposites such as spirit and soul, and is also conflated with the union of a man and a woman. While the text is perhaps falsely ascribed to St. Thomas, it is consistent with his ideas so that it may be explicated using his writings on the Trinity, psychology, angels, and Greek philosophy. From there, correspondence is established with C. G. Jung's concept of archetypes, and the text is subsequently interpreted from the perspective of analytical psychology.
It is identified how interaction of archetypes associated with the union of a man and a woman provide an explanation for the process of redemption given in the Aurora. A similar process of redemption is identified in other writings from the beginning of the Christian era up to the modern teachings of the Catholic Church. Read more here